NEWS RELEASE
For more information contact:
Keith Sutton, Marketing Manager
404-305-3501
ksutton@southeastrans.com
February 8, 2017, Atlanta, Georgia – Southeastrans continues to develop its team of corporate trainers and compliance officers by recently sending them through a comprehensive three-day course to become PASS Certified. The company is a member of the CTAA (Community Transportation Association of America) which facilitates this course. Twenty-five Southeastrans trainers and compliance officers from state offices and the corporate headquarters completed the course in Atlanta, Georgia earlier this month. "Southeastrans has always had a practice of keeping our employees fully educated when it comes to training our providers and volunteer drivers," comments Chris Lee, General Counsel and Executive Director for Compliance. "The PASS Course is one that continues to validate that we strive to ensure drivers operating in our network are well-trained in transporting our members safely to their medical appointments," says Lee.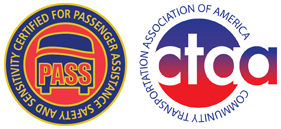 The (PASS) Trainer and Driver Certification Program ensures that community transportation drivers have current expertise in passenger assistance techniques and sensitivity skills appropriate for serving persons with disabilities. The PASS program is designed as a three-day Train-the-Trainer course to certify trainers who can then train drivers or as a two-day Driver program in which CTAA instructors train drivers. Some advantages of offering the PASS certification program are the ability to reduce organizational liability; comprehensive, up-to-date training on the assistance drivers should be providing to passengers with special needs; intensive emergency situation training; certification oversight provided by national leaders in the community transportation field; and updates for all participants on relevant regulatory changes. The certification is valid for three years and can be renewed on-line or by attending a PASS workshop.
About Southeastrans
Southeastrans, Inc. was founded in 2000 as a transportation management company specializing in efficient and innovative delivery of human transportation services. Southeastrans manages a range of transportation programs including Medicaid non-emergency medical transportation, human service center transportation, and managed-care organization transportation services. The company's management methodologies have demonstrated tremendous success in reducing program costs, improving transportation service quality, and building comprehensive and reliable transportation provider networks. Southeastrans currently coordinates over 3.6 million non-emergency medical trips annually under contracts in Georgia, Tennessee, Arkansas, Louisiana, Virginia and the District of Columbia. For additional information about Southeastrans, please visit www.southeastrans.com.